Here you'll find some headline news for stuff related to Maniac Mansion in any way. The recent items are at the top.

---

LucasFan Games, the people who brought you The New Adventures of Zak McKracken, released Maniac Mansion Deluxe, a fan-made remake of the game in 256 colors, featuring a more user-friendly DOTT-style interface, continuous MIDI music, and numerous other interesting additions/changes. Go out and download what has already become extremely popular among the fan community!



There's a new interview with David Fox up at The Gathering that everyone who is a fan of the old graphic adventures should check out right now.


Wow, more German fan goodness! There is an amazing project going on... a fan made Maniac Mansion remake/sequel. We will certainly have our eyes on this project as it progresses. For now, drool over the flash video.

thanks to Joakim Lyttbacka for the heads up!



Adventure Gamers has recently reprinted its Top 20 Adventure Games of All-Time feature which includes Maniac Mansion at #14 and Day of the Tentacle at #1. Check it out.



SCUMMVM version 0.6.0 has been released today, sporting shiny support for the V1 Maniac Mansion and numerous bug fixes for all of the supported games. What are you waiting for? Go and get it right now!



As I'm sure many have you have heard, Sam and Max: Freelance Police (Sam and Max 2) has been officially cancelled. If you didn't know, I'm sorry I was the first to tell you the horrible news. This is a sad day for Sam and Max fans. But what does this have to do with Maniac Mansion? Well, I've got a feeling that this decision by LucasArts will affect possible future sequels and re-releases of MM and DOTT. By cancelling Sam and Max 2, LucasArts more or less admitted that it no longer had any interest in the adventure genre. This conclusion was easily drawn based on the fact that the game was very far into development (a Spring or Summer release was anticipated) as well as LucasArts' reason for axing the game: because they were afraid it wouldn't sell well. For a game so far into development (much time and money was spent on its production), this is a weak reason to say the least. I fear that today LucasArts has lowered itself to just another stupid, mediocre company. It's sad. The company that released such amazing and memorable adventure games which refined the genre is giving up on it. I'd say that based on this news, the chances for anything Maniac Mansion related anytime soon is incredibly unlikely.



The long lost Maniac Mansion demo has been found! Apparently it was found in the Zak McKracken IBM disks. Surprisingly, it's actually an entertaining bit, (as far as non-interactive demos go, anyway) featuring Dave giving you a tour of the game. SCUMMVM supports the demo with its most recent daily build, so do yourself a favor a download this demoey goodness! Also check out the enhanced version also available in the thread.



There is an interview with David Fox (who co-programmed MM) that everyone should check out. He mentions some interesting about MM and Zak McKracken.



Gamespy.com is currently holding a 'Title Fight!' contest including a selection of LucasArts games. Since Maniac Mansion is included among them, you should all go vote.



It has been revealed that the great folks over at LucasArts Soundtracks will be eventually adding Maniac Mansion to its list of wonderfully remixed game soundtracks. Stay tuned!



Unfortunately, it has recently been confirmed that LucasArts has discontinued the Classic Adventures Pack, which contained the enhanced PC version of Maniac Mansion. This is quite disappointing, and marks the end of this version of the game being sold officially. The only version of the game that can currently be bought from the company is a shoddy PC port of the C64 version that is included as an easter egg in Day of the Tentacle. The discontinuation of this compilation also marks the end of an official outlet for Zak McKracken and the Alien Mindbenders, Indiana Jones and the Last Crusade, Loom, and the floppy disk version of The Secret of Monkey Island (currently, Monkey 1 can only be purchased as part of the Monkey Madness CD). One can only hope that LucasArts plans to re-release this classic game in the not-too-distant future. Until then, we should lock ourselves in our homes and cry like babies.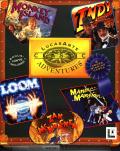 Remember the heart-breaking (and not wholly unexpected) server crash of Mixnmojo that occured over the summer? Sure, we all do! Some of the Maniac Mansion concept art that was part of Mojo's Gary Winnick interview have re-emerged for all to enjoy.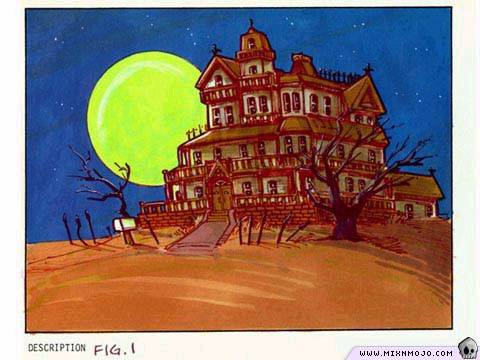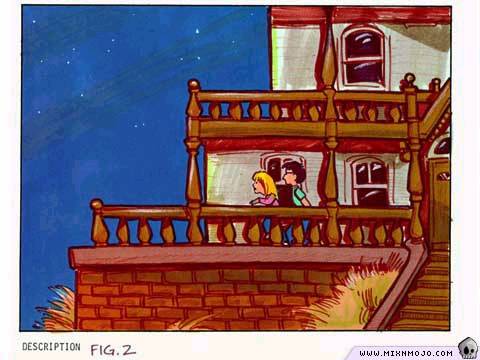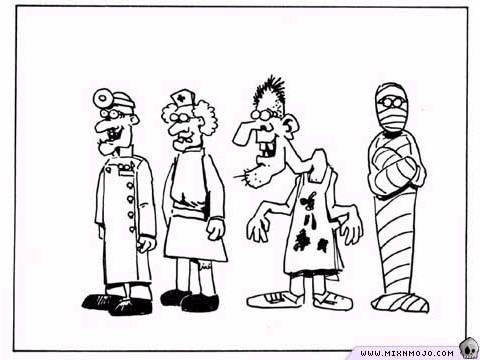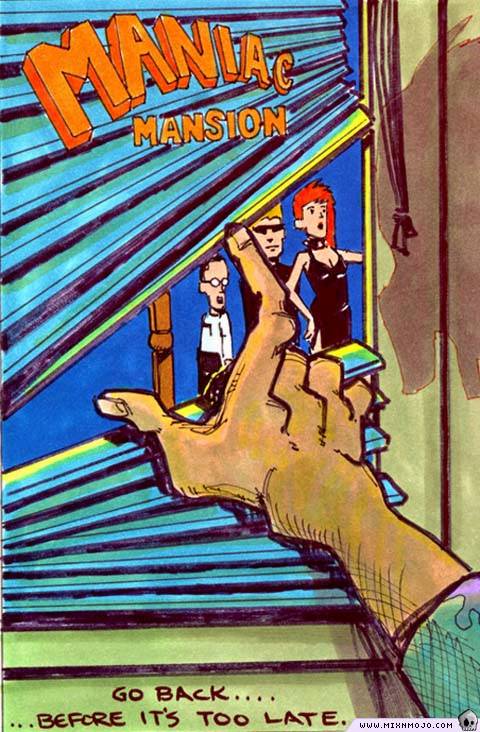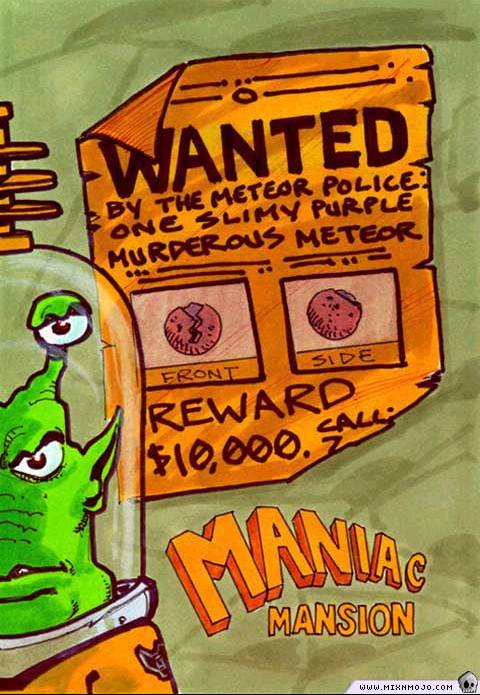 LucasArts Soundtracks has recently posted the complete* Day of the Tentacle soundtrack for all to enjoy. These are excellent remixes, and everyone should go enjoy them.

*where the heck is Dwayne's Theme?!



r3m.org recently posted a Maniac Mansion Speed Run. It's a video (6.5 megs) of the NES version of Maniac Mansion being beaten in 13 minutes with the Dave, Bernard, and Michael combination (calling the meteor police). It's fun to watch (gotta love the NES Pepsi shortcut), but I know you guys, knowing all the shortcuts, can do better. And the next video I see better not have a character PICKING UP the front door key!
For more NES Speed Runs, check out the website, and don't forget to listen to those fun-filled commentaries.

Thanks to Teddog for the find.



The new and improved LucasArts Soundtracks website (hosted by The Scumm Bar) has already put up the first DOTT music track. Judging by the quality of this first track as well as the soundtracks to all of the other games, the DOTT soundtrack will be nothing short of stunning. Stay tuned.



Sometimes the coolest things are found at LucasForums. The topic of interest is the need to remake MM in 3-D. Well, a certain someone by the name of Thomas Mahler (article here - have fun translating..and be sure to check out those movies), has been making some really cool 3-D Maniac Mansion/Day of the Tentacle pictures. Don't forget to compliment him in the topic thread and drool over his amazing pics. This certainly proves that Maniac Mansion still looks cool in the third dimension...I'm waiting for LucasArts to pick up on this.
Enjoy his pics: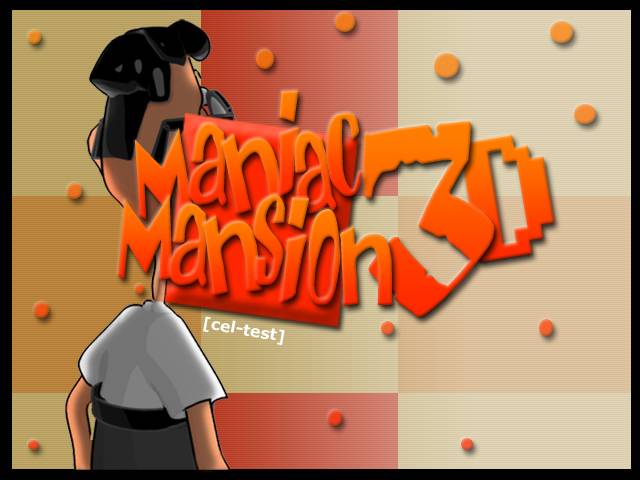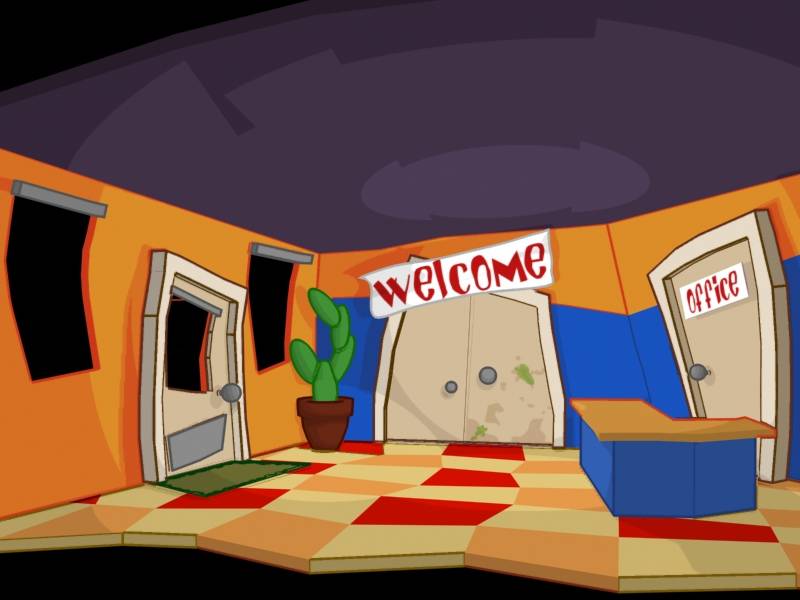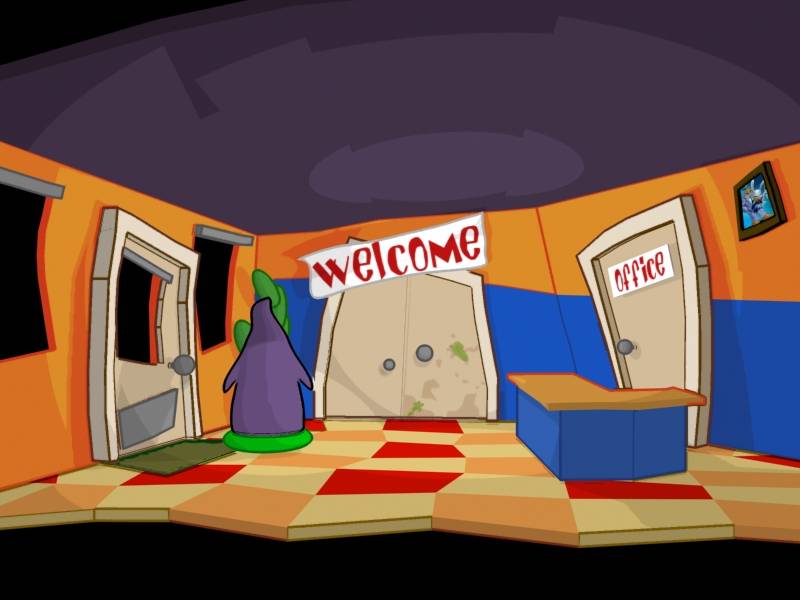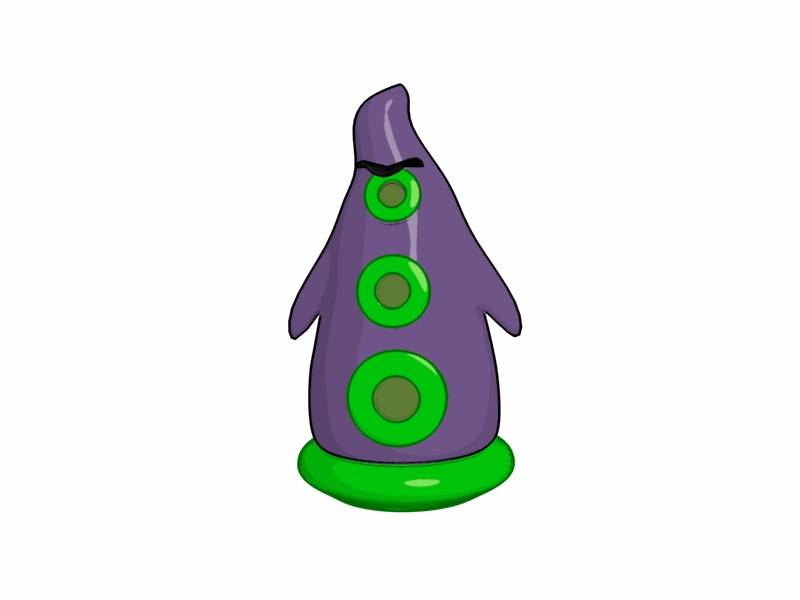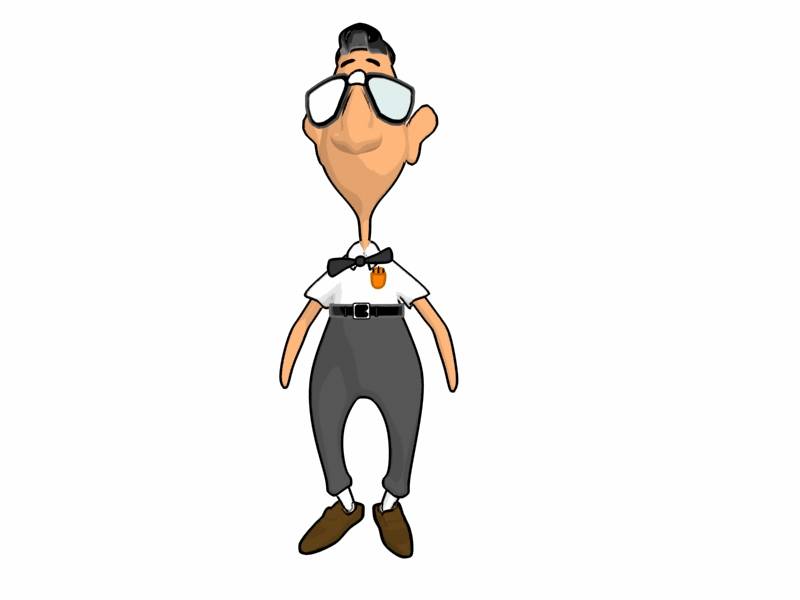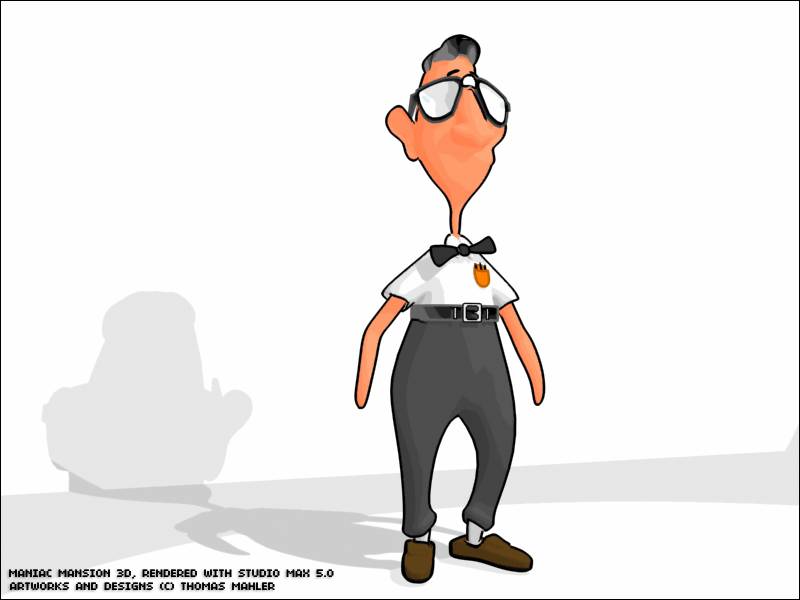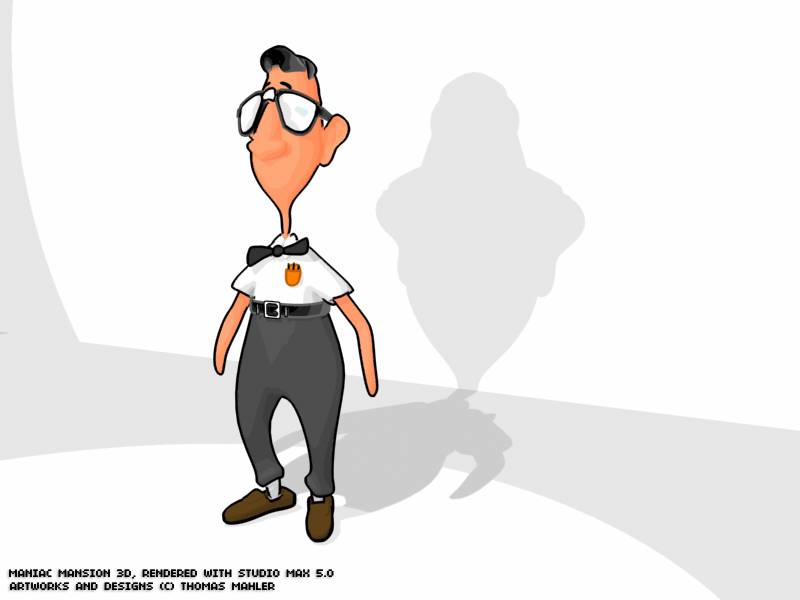 Thanks to Teddog, your Halloween just got a lot scarier...she's found a horrifying rendition of Michael's theme from the music of jake kaufman. If you have trouble sleeping at night, be sure to blame Teddog.



A very interesting eBay auction for a Day of the Tentacle T-Shirt is currently going on. I've never seen one of these before, but it doesn't come close to the Maniac Mansion T-Shirt that was sold a couple of years ago.



Those crazy Germans. Some die-hard German Maniac Mansion fans have created a totally excellent 15-minute fan movie which you can download here. It's a pretty big AVI file and requires DivX, but well worth it. The entire thing is in German, but it's worth taking a two-year class on the language just to watch this thing. So go ahead. Download it here, or here, or even here.

Thanks to Teddog for the find.



Well, besides the fact that the new tsr's NES website is apparently being updated, it has a small page dedicated to the NES prototype cartridge of Maniac Mansion. Besides a few excerpts from Douglas Crockford's article, it contains screenshots from an apparently valid copy of this rare cartridge. I don't want to know how much one of these babies could be worth.



Maniac Mansion for Playstation 2? Lookie here! (Note: This rumor is now over two years old so, no, it isn't true.)